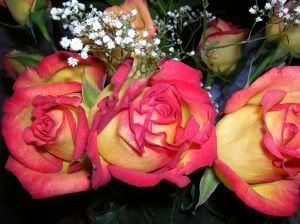 (These are my lovely rose bouquet I received for my birthday.)

What a week! Seems all my good intentions go down the not now path!I really thought I would have a handle on school by now so I could keep up with my other obligations. You know, grocery shopping, laundry, dusting . . .then there is the not so obvious ones, my blog, my two websites and my blog reader (we won't talk about the email!). The good thing is my first week grades are A's and B's - that is consolation for sure! I had a really nice birthday even if I didn't get to the computer at all! My mom made a fantastic dinner, and a Paula Deen strawberry topped layer cake. Yummy! I will have to get recipe next time we get together. Hubby surprised me with a brand new computer chair. I love it - now that I can sit in it for a bit.



Suppose I better get going. I have tons to do yet tonight, maybe even get an email or two out before I go to bed.
Until Next Time,